Simple Image Cropping with Flex
Here is a simple, pure as3, image cropper I wrote for Flex. I'll try do a post later in the week describing how to use it in Flash cs3 and cs4.
[kml_flashembed publishmethod="static" fversion="9.0.0″ useexpressinstall="true" replaceId="flex_image_crop" movie="/apps/flex_image_crop/bin-debug/main.swf" width="640″ height="458″ targetclass="flashmovie"]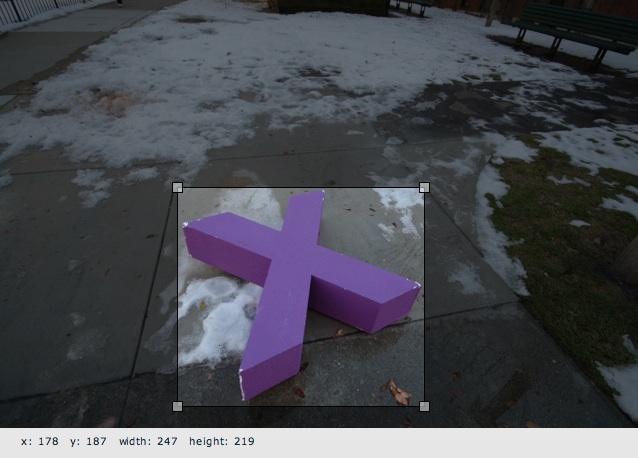 [/kml_flashembed]
Features:
Very Simple
Allows you to set min and max values for height and width
Holding shift key keeps aspect ratio
You currently have to do the cropping on your own, either in flash or server side. I will followup later with examples of how to do that.
To embed this into you application, all you have to do is:
import

 

com

.

wirelust

.

imagecrop

.

ImageCrop

;




import

 

com

.

wirelust

.

imagecrop

.

CropBox

;





private

 

var

 

imageCrop

:

ImageCrop

 

=

 

new

 

ImageCrop

()

;




private

 

function

 

onCreationComplete

()

:

void

 

{




imageCrop

.

loadImage

(

"demo1.jpg"

)

;





// imageBox is an mx:HBox in my mxml




imageBox

.

addChild

(

imageCrop

)

;





var

 

crop

:

CropBox

 

=

 

imageCrop

.

cropBox

;





// Set up the initial crop




crop

.

cropX

 

=

 

178

;




crop

.

cropY

 

=

 

187

;




crop

.

cropWidth

 

=

 

249

;




crop

.

cropHeight

 

=

 

219

;




}



You can then listen for CropBox.EVENT_CHANGED to get the dimensions of the box as it changes:
private

 

function

 

onCreationComplete

():

void

 

{


    

// snipped ...</code>


    

crop

.

addEventListener

(

CropBox

.

EVENT_CHANGED

,

 

onCropChanged

);




}





private

 

function

 

onCropChanged

(

event

:

Event

):

void

 

{


    

if

 

(

imageCrop

.

cropBox

 

!=

 

null

)

 

{


        

xValue

.

text

 

=

 

imageCrop

.

cropBox

.

cropX

.

toString

();


        

yValue

.

text

 

=

 

imageCrop

.

cropBox

.

cropY

.

toString

();


        

widthValue

.

text

 

=

 

imageCrop

.

cropBox

.

cropWidth

.

toString

();


        

heightValue

.

text

 

=

 

imageCrop

.

cropBox

.

cropHeight

.

toString

();


    

}




}



Files

Download source code